The Bunong vs. The Sesan II Dam
Luc Forsyth and Gareth Bright have set out on a journey to follow the Mekong river from sea to source. The Diplomat will be sharing some of the stories they've found along the way. For more about the project, check out the whole series here.
***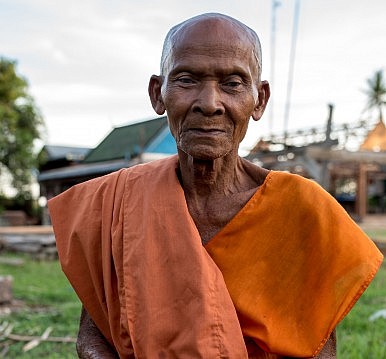 A monk sits in front of his pagoda in the village of Kbal Romeas.
Image Credit: Luc Forsyth
In the last installment of A River's Tail in Cambodia, we travel to the remote village of Kbal Romeas, where the residents are in danger of losing their land and traditional way of life if the Sesan II dam becomes operational.
The day before, we had visited Koh Sralay, a community located downstream of the dam that faced reduced fishing prospects, which would quite possibly derail their family livelihoods. After that, we wanted to learn about the challenges ahead for people living upstream, on the site of the dam's future reservoir. With the addition of Meach Mean, our crew size had grown to six (including a driver and translator), and we packed ourselves into the back seat of an aging Toyota Camry for a two-hour drive to the remote village of Kbal Romeas.
As we neared the village, the roads became increasingly treacherous and were dotted with deep mud holes from recent rains. Eventually the two-wheel drive car could go no further with such a heavy load of passengers and the driver ordered us out. Meach called ahead to the village and arranged for a small fleet of motorcycles to drive out and shuttle us the last few kilometers.
Kbal Romeas was home to 136 families of Bunong, an ethnic minority tribe who have inhabited the area northeast of Steung Treng for around 2,000 years. Though Buddhism was making inroads in Bunong communities, they were predominantly animists who believed in living in harmony with nature, and who fed themselves almost entirely from natural resources. The only road leading to the village was unpaved, and the locals owned no cars. Bunong do not believe in fencing-in their domesticated animals, instead trusting that their herds will make their way home each night. Piglets ran openly through the community, competing with chickens for mangos that fell from the trees above. Some Bunong do not speak fluent Khmer, the official language of Cambodia. These were the people who had the most to lose if Sesan II was built.